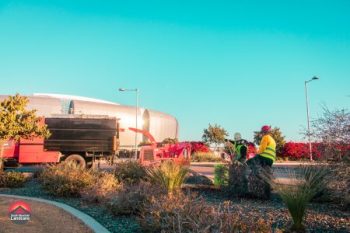 We're The Commercial Landscape Company You're Looking For
For business owners, having well-maintained scenery is not only about presentation; it's also a reflection of their company. At South Mountain Landcare, we understand the importance of a beautiful landscape for commercial properties and offer a diverse range of services to help property owners maintain their outdoor space. One of the benefits of working with South Mountain is our commitment to customer service. We understand that every commercial property is unique and will work closely with each client to develop a customized plan that meets their specific needs and preferences. Whether it's designing a new commercial landscape or maintaining an existing one, our team of experts is always available to answer questions and provide guidance.
Trust Our Team of Landscaping Contractors With Your Next Job
As a leading commercial landscaping company, South Mountain offers a comprehensive range of services designed to keep commercial properties looking their best. From tree services to regular landscape maintenance, our experienced team has the skills and expertise necessary to provide top-notch service. Our team of experts has over 50 collective years of experience working with a variety of commercial properties, from small retail spaces to large commercial spaces. We use tried and true methods to ensure long-lasting results and are always available to answer questions and address concerns.
Flexible Landscaping Costs Your Business Can Afford
We also understand that investing in professional landscaping services can be a significant expense for many commercial businesses. To make our services more accessible to a wider range of clients, we are proud to offer affordable financing plans. Our financing options are designed to be flexible and customizable, allowing residential and commercial clients to choose the plan that best fits their budget and unique needs. We also offer discounts during the winter months to help our clients save money and get their landscaping ready for the summer ahead of time. We believe that high-quality commercial landscaping services should be accessible to all businesses, regardless of their financial situation. We are always striving to provide financing options that make that possible.
We Specialize in All Landcare Services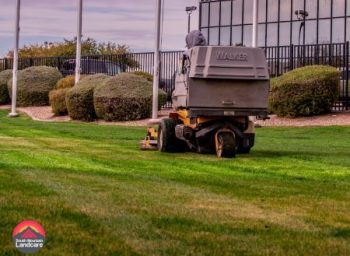 In addition to our commercial landscaping services, South Mountain Landcare also offers a range of tree services designed to help commercial property owners maintain healthy and vibrant trees. From tree trimming to emergency tree removal, we have the skills and experience necessary to provide top-notch service. Our team has the best knowledge of tree care to help you with any kind of landscape you have. We are also happy to offer sprinkler and irrigation installation and repair for commercial properties. We recognize the essential role that a fully functional sprinkler system can play in the maintenance and upkeep of your outdoor area, and because we know this, we are devoted to providing outstanding service for all our customers to guarantee their sprinklers are working at their best. We strive to make sure you don't need to worry about your lawn, gardens and other landscaping features – just leave it to us!
Stop Looking For Commercial Landscaping Near Me, Call Us
Overall, South Mountain Landcare is the top choice for commercial property owners in Paradise Valley, AZ looking for reliable and affordable commercial landscaping. Our commitment to client satisfaction, affordable financing plans, and a range of commercial services offer a level of service that is hard to beat. Whether it's maintaining an existing landscape or designing a new one, we can give owners a beautiful and well-maintained outdoor space for their entire property. Call us today to get started on your company's eyecatching upgrade!