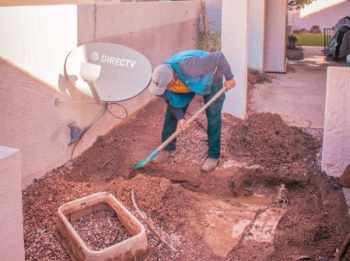 Trust Us To Install Your Lawn Irrigation System
If you're a property owner in Phoenix, AZ looking to keep your landscape healthy and vibrant, proper irrigation is crucial. For reliable and professional sprinkler system installation services, South Mountain Landcare is the go-to choice. Our top priority is customer satisfaction, and we stand behind our work with a satisfaction guarantee. We are happy to work on everything from large-scale commercial sprinkler systems to smaller residential projects. Our experienced technicians work closely with each client to design and install a customized sprinkler system that meets your specific needs and preferences.
One of the biggest advantages of working with us is our team of expert technicians. They have years of experience installing a variety of systems and have over 50 collective years of work in the industry. Our dedicated employees are always available to answer any questions or concerns clients may have. We are also available 24/7 for any emergencies you may face with your sprinkler or irrigation systems.
Keep Your Sprinkler Reliable With Regular Maintenance
Before installing any sprinkler, we conduct a comprehensive inspection to ensure optimal performance and efficiency. Our technicians check for leaks, adjust sprinkler heads, and test water pressure, knowing that even minor issues can cause major problems down the line. We take a proactive approach to ensure that every system is working at peak efficiency. If your current system just needs some TLC, we also offer sprinkler repair.
We Service Any Type of Sprinkler Systems
We offer various types of sprinkler systems, including Schedule 40 PVC drip irrigation and polyethylene irrigation tubing systems. Our team works closely with clients to determine the best system for their specific needs, taking into account each system's advantages and disadvantages. We also offer a lifetime warranty on Schedule 40 PVC systems, so you'll never have to worry. We can also install eco-friendly water solutions, such as rainwater harvesting and smart irrigation controllers, to help clients reduce the amounts of water used and save on bills.
Get Commercial Sprinkler System Installation For Your Business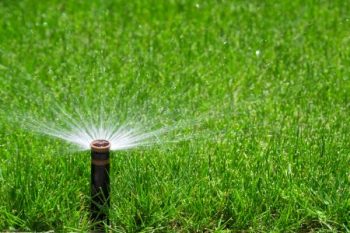 Commercial sprinkler system installation is a critical component of any business's property maintenance plan. These systems are essential for maintaining healthy and vibrant landscaping and bringing customers into your business. At South Mountain Landcare, our team of experienced professionals has the knowledge and tools necessary to design and install a customized sprinkler system that meets the unique needs and preferences of your commercial property. We work closely with our clients to identify their irrigation requirements and provide comprehensive services, including thorough inspections, eco-friendly water solutions, and installation of different types of sprinkler systems such as drip irrigation, rotor sprinklers, and spray heads. We guarantee customer satisfaction with all our services so you can have peace of mind knowing that your commercial property's sprinkler system is expertly installed and maintained to keep your landscape healthy and beautiful.
Sprinkler Repair When You Need It
In addition to installation services, we also offer sprinkler system repair and irrigation maintenance services. Our technicians can diagnose and repair any issues with an existing sprinkler system, including broken sprinkler heads, clogged pipes, and faulty valves. We also offer regular maintenance services to ensure optimal performance.
Your Search for a Sprinkler Company Near Me is Over, Call Us
If you're a property owner in Phoenix, AZ, South Mountain Landcare is here to offer the best system installation services in the business for you. With our satisfaction guarantee, experienced technicians, and dedication to the customer, we provide a level of service that will help you maintain a beautiful and healthy landscape for years to come. No matter the project size, we will be there to help every step of the way. Give us a call today, and let us give you a free estimate to get started on your new property upgrade.