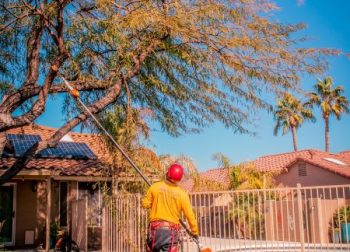 Tree Trimming Service You Can Trust
Maintaining trees is an important part of property management, whether it's for residential homes or commercial buildings. Overgrown or damaged trees can not only be unsightly but also pose a safety hazard to people and property. For businesses in Phoenix, AZ, South Mountain Landcare is a top choice for professional tree trimming services. We are a full-service landscaping and tree care company that offers a range of services to customers in the Phoenix metropolitan area. Our dedicated team of professional tree service experts is equipped with the skills, knowledge, and tools necessary to provide high-quality tree-trimming services to anyone who needs them.
Tree Branch Removal and Pruning to Make Your Property Glow
One of the key advantages of working with a professional tree service company like South Mountain is our ability to provide customized solutions. We understand that every commercial property has unique needs and preferences, and we take the time to evaluate each property and come up with a plan that meets those needs. We are happy to offer branch removal with all trimming services that will improve tree health and make the trees in your neighborhood safer. Whether it's routine tree pruning or emergency tree removal, our team can help ensure the safety and beauty of any commercial property.
We Offer Palm Tree Trimming for Any Height
South Mountain Landcare offers a range of tree services, including canopy reduction, crown cleaning, and thinning, as well as structuring and balancing. Our experienced team offers expert trimming, regardless of the type of tree. We offer services for any size of cacti, ash trees, palm trees, fruit trees, and citrus trees. And with our competitive prices, commercial and residential property owners can enjoy the benefits of professional tree service without breaking the bank.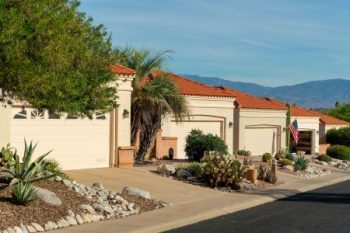 Day or Night, We Provide Emergency Tree Services
In addition to routine tree trimming services, South Mountain Landcare also offers emergency tree trimming and removal services. Our team understands that emergencies can happen at any time, and we are available 24/7 to help ensure the safety of local residents and your business customers. Whether it's due to a storm, disease, or any other cause, overgrown or damaged trees can pose a serious risk to people and property. A fallen tree or a hazardous limb can be taken care of immediately, and we will respond quickly and efficiently to remove the issue and prevent further damage. We also offer stump grinding to remove the remainder of the tree quickly and easily.
Tree Trimming Costs You Can Afford
We recognize that trees are a significant investment for any property owner, and that's why we offer affordable prices and financing for our tree trimming services. We understand that yard care can be a reoccurring expense, and we work with our clients to provide personalized solutions that meet their needs and budget constraints. Our prices are transparent, and we always provide a detailed breakdown of the cost of our services upfront, so you can be confident that you're getting the best possible value for your money.
End Your Search For Tree Trimming Near Me, Call Us
South Mountain Landcare is a top choice for residential and commercial property owners looking for experts in tree trimming services. Our team of skilled and experienced experts can help ensure the safety and beauty of any commercial property or home. And with our affordable prices and emergency tree services available 24/7, we offer a level of service that is hard to beat. Call us today and get started with a free estimate!