Creating a captivating outdoor space requires the expertise and skills of a reliable landscape company. But with so many options available, how do you choose the perfect one for your project? In this blog post, we will uncover the secrets to finding the right landscaping company that aligns with your vision and delivers exceptional results. Whether you're planning a small garden makeover or a large-scale commercial landscaping project, these key factors will help you make an informed decision and ensure a successful partnership.
License and Insurance
When selecting a landscaper, it is crucial to prioritize companies that possess proper licensing and insurance. A license ensures that the landscaper has met the necessary requirements and regulations set by the local authorities. It signifies their professionalism and commitment to quality work. Insurance, on the other hand, provides protection and peace of mind for both the client and the landscaper. It covers any damages or accidents that may occur during the project, safeguarding against potential liabilities. By choosing a licensed and insured landscaper, you can trust that they are qualified, accountable, and capable of delivering the services you need while minimizing risks.
A Strong Reputation
When it comes to selecting a landscape company, reputation speaks volumes. Look for a company with a solid reputation within the industry and among its clients. Research online reviews and testimonials to gauge customer satisfaction. Seek referrals from friends, family, or neighbors who have had positive experiences with landscape companies. A strong reputation is an indication of the company's professionalism, expertise, and ability to meet client expectations.
Experience and Expertise
Experience is a crucial factor to consider when choosing a landscape company. Look for a company that has been in the industry for several years, as they would have accumulated knowledge and skills to handle various landscaping challenges. Experienced professionals can provide valuable insights, creative solutions, and ensure efficient project management. Their expertise will result in a well-executed and visually stunning landscape.
Range of Services
Evaluate your specific landscaping needs and choose a company that offers a comprehensive range of services. Whether you require landscape design, installation, maintenance, irrigation, hardscaping, or tree care, finding a company that can handle all aspects of your project saves time and effort. Working with a single company streamlines communication, coordination, and ensures a cohesive and integrated approach to your landscape design.
Portfolio and Previous Projects
Reviewing a landscape company's portfolio and previous projects is an excellent way to assess their capabilities and style. Request to see examples of their work, such as before and after photos of completed projects. Pay attention to the quality of craftsmanship, attention to detail, and overall aesthetic appeal. A diverse portfolio showcases the company's versatility and their ability to deliver results that align with your vision.
Effective Communication
Clear and open communication is vital for a successful partnership with a landscape company. Choose a company that values effective communication and actively listens to your ideas, concerns, and requirements. They should be responsive and transparent and provide regular updates throughout the project. Good communication ensures that your vision is understood and executed accurately, leading to a satisfactory outcome.
Sustainable Practices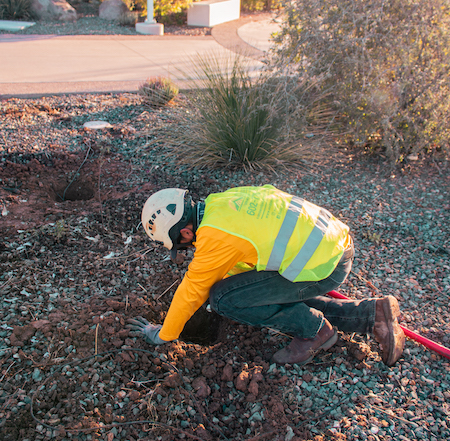 In an era where environmental sustainability is paramount, opt for a landscape company that incorporates sustainable practices. Inquire about their approach to water conservation, use of native plants, and environmentally friendly materials and techniques. A company that prioritizes sustainability not only helps protect the environment but also creates landscapes that harmonize with nature and minimize ecological impact.
Transparent Pricing and Contracts
Discussing pricing and contracts is crucial to avoid any misunderstandings or unexpected costs. Choose a landscape company that provides clear and transparent pricing information. Obtain detailed cost estimates and understand the breakdown of expenses. Ensure that the company's pricing aligns with your budget and expectations. Carefully review contracts to ensure they outline all services, timelines, warranties, and any necessary permits or licenses.
Conclusion
Choosing the right landscape company is essential to achieve your desired outdoor space. By considering factors such as reputation, experience, services offered, portfolio, communication, sustainability practices, and transparent pricing, you can make an informed decision. Take the time to research and evaluate multiple companies before making your final choice. Remember, the right landscape company will not only bring your vision to life but also provide exceptional service and create a landscape that exceeds your expectations.
Your Local Landscape Company In Phoenix AZ
At South Mountain Landcare, we are a local, trusted full-service landscaping company serving the Phoenix metropolitan area. We are proud to offer a wide range of landscaping services including:
Landscape Maintenance Services (regular maintenance)
Tree Trimming Services
Tree Removal Services
Sprinkler System Installation & Repair
Custom Landscape Design (for residential and commercial properties)
And much more!
We are dedicated to transforming outdoor spaces into stunning havens. Our skilled team of landscape designers and professionals possesses the expertise, knowledge, and tools necessary to cater to the unique needs and preferences of each client. Customer satisfaction is important to us. That is why we approach every project with a personalized touch, ensuring that our clients are completely satisfied with the end result. Whether you're seeking a complete landscape overhaul or looking to enhance your existing outdoor space, our team of skilled landscapers has the expertise to make it happen. Call us today for a free estimate!